Stankzine Special Hottest Men In Metal Minizine!
There is a reason Revolver's
"Hottest Chicks in Metal"
issue was not called the
"Most Talented Female Musicians"
issue. Check out Stankzine's table-turning experiment.
(Does not make fun of metal. Makes fun of metal magazines.)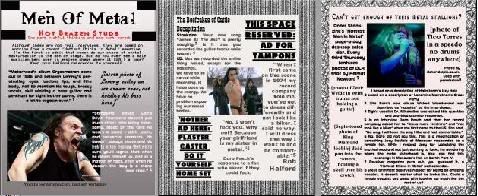 Click here to download Stankzine 7
Stankzine #7: China Immersion.
Being ornery all over creation!
My trip to Beijing, Xi'an, Dalian & Shanghai.
I've eaten corn every day so far. It's been a different way each time.
In my mind, every Chinese person is saying "she needs to buy a bra" or "American girls must not shave their legs."
"Elephants living next to a road mimicked the sounds of the road"

Click here to download the sixth Stankzine
Prophylactic Assault: My Experience with Pansy Division
My Life's #1 Source of Guilt
Chinese Amusement Parks
"Possession and Desire Are Mutually Exclusive."

Click here to download Stankzine #5
Things Overheard at the East Coast Rocklahoma
Concert Photography: Keel, Steel Panther, & Jetboy
I Didn't Know Chicks Could Play Like That: The All-Girl Led Zeppelin Tribute Lez Zeppelin
Bouncing Souls Fans May Spot Themselves
All My Friends Work in a Cigarette Store

Click here to download Stankzine #4

Why I Shouldn't Date Alcoholics
Smuggling Sex Toys into Iggy Pop
Heavy Metal Quotes & On-Stage Banter
Oral Sex Nosebleed
Concert Photography: Jerry Only, Anvil, Dee Snider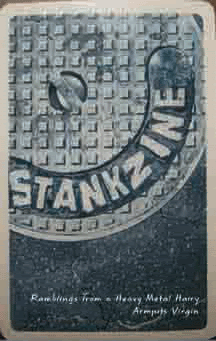 Click here to download Stankzine # 3

Smut for Smut's Sake
You May Be Interested: Facts About Parasites
Don't-Do-It-Yourself Dildo Sanitation
(Or: The Most Embarrassing Thing I've Ever Done)
Crushes on Boys
Old-Ass Poem About the Yangtze River
Bad English Signage: "Drunkard, neuroses, child w/o guardianship not permitted on yacht!"
Still More Rock Photography

Click here to download Stankzine #2
March 2009
Includes:
Romanticized Violence
"The Girls in Kiss With Their Big Breasts"
Virginity, Guilt, and Bondage
Duality of the Self: "I am the Whore and the Holy One"
Jani Lane Self-Destructs in a Honda
Free or Cheap Pap Smears and Breast Exams
How to Woo Women

Click here to download Stankzine Issue 1
February 2009
Andrew WK show review (includes ripped abs stage dive)
How my Vaginal Cyst Resolved my Penis Envy
"The sociopath's behavior is not your fault."
TMI about my sex life
Leggy Drums
"Wrong Numbers & Stolen Photos"
Rock n roll photography
Nails Through Your Penis, Nails In Your Face